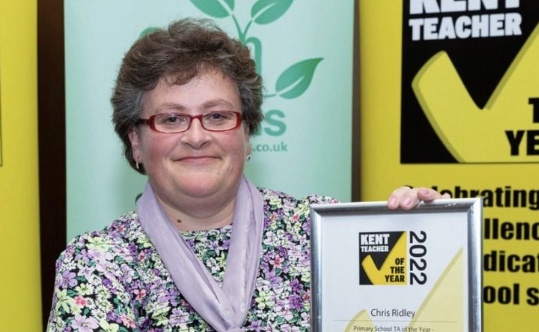 Not one, but TWO winners!
We couldn't be prouder to announce that Miers Court Primary School had not one, but TWO winners from our staffing body in the Kent Teacher of the Year awards!
Chris Ridley won the Gillingham Teaching Assistant of the Year Award, was the overall winner of that category and received the Kent Primary Teaching Assistant of the Year.
Stacey Doherty won the Gillingham Primary Teacher of the Year Award.
Both members of staff received a certificate to mark their achievement. Mrs Ridley also received a beautiful glass trophy and a gift certificate for a Mindfulness Taster session from the award's sponsor.
Mrs Chapman said "I am so incredibly proud of Mrs Ridley's and Mrs Doherty's achievement and delighted that their dedication has been recognised. These awards are a recognition of the dedication and hard work that my staff do every day.