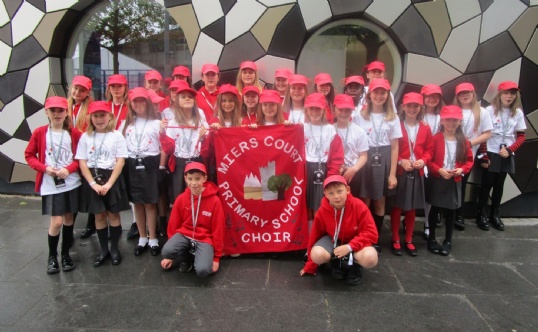 After a long wait, we finally made it to the Young Voices concert!
"On Wednesday 4th May, I took 30 children to London for the long-awaited Young Voices concert. This had been delayed from last year and from January this year so the children (and me) were very excited. I could not be more proud of the children; their enthusiasm, singing and behaviour were incredible and they should be very proud of themselves. It was a fantastic experience for all involved. Well done to everyone."
- Mrs Townsend
"We got the coach to the O2 and it was about an hour journey. We sang some songs on the coach. When we arrived, we sat in our seats and we sang "I'm Still Standing" and "How Far I'll go" to warm up before we started singing our choir songs. We rehearsed before the evening show started. The time went really quickly and I was really excited to show it to the audience. It was amazing!"
- Ava
"It was a great experience. There were a lot more parent and child interaction than last time. The dancers (Urban Strides) were amazing. There were many guest artists that came on, such as Ruti and Connie Talbot. It was also a good place to make friends with the Year 5 children."
- Millie-Mae and Isla