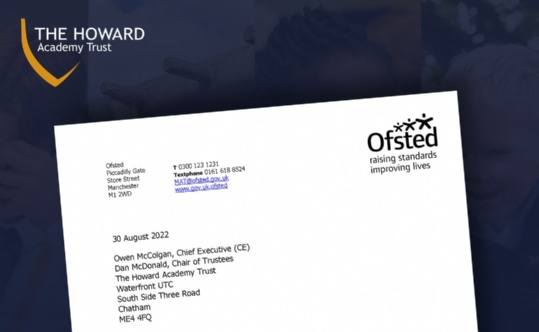 THAT celebrate a successful MAT Summary Evaluation!
At the end of the 2021/22 academic year, The Howard Academy Trust received a visit from Ofsted to conduct a MAT Summary Evaluation. This took place for three days in July 2022. The process conducted was in-depth and focused on the support and impact that The Howard Academy Trust has on its member academies.
"Pupils are currently receiving a good education in all schools that have been inspected since joining the Trust."
MAT Summary Evaluations were introduced by Ofsted in 2019. Since then, there have been very few conducted due to COVID. The evaluation of THAT was the only evaluation conducted in the Southeast this year and the 9th conducted by Ofsted overall nationally.
Owen McColgan, Chief Executive of The Howard Academy Trust commented: "We are very pleased with the outcome of the MAT Summary Evaluation conducted by Ofsted. It allowed us to have a professional discussion with inspectors about the strengths within the Trust and the areas for development that we are already working on. It is encouraging that inspectors highlighted that we are providing a good education to the pupils attending our academies due to the hard work of our staff and the support we receive from our parent/carer community."
Receiving the MAT Summary Evaluation at the end of the last academic year has provided THAT with external validation that we are a "Strong Trust" and that we provide support and challenge to our academies as appropriate. You can find read the full report by clicking the link below.