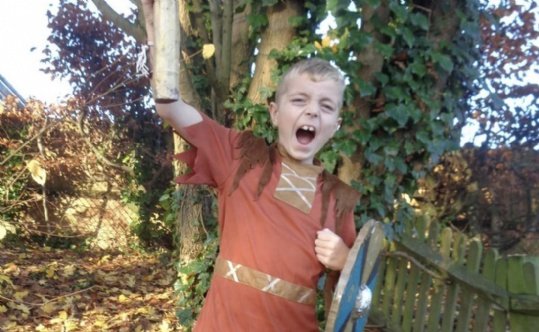 Year 4 had a great time during our Viking day. We all dressed up as Viking warriors and spent the whole day in Ancient Britain!
First we learned how to write using the futhark (the Viking alphabet). Did you know that all Viking runes were made with straight lines? This is because the Vikings carved runes into rocks and wood. We carved our names into stone and turned them into necklaces.
We also created some mixed media artwork of long ships using watercolours. We tore up blue watercolour paper to create the ocean, and using pens, pencils and lolly sticks we created a longboat to sail upon the seas!
Over the past few weeks we have also been designing and building our own Viking weapons. In true Viking fashion, we tested out our Viking weapons that we had been building in a Viking battle! We learned several Viking chants and were taught several stage combat moves to make our battle look realistic, then Flamingo's faced off against Macaws! Most of our weapons were strong and sturdy, but a few didn't survive the battle!
To finish the day, we celebrated with a Viking feast. We were able to try lots of different root vegetables and foods that the Vikings would have grown and farmed such as leeks, radishes, carrots, goat's cheese, rye bread and honey.
We had an amazing day and loved every minute!