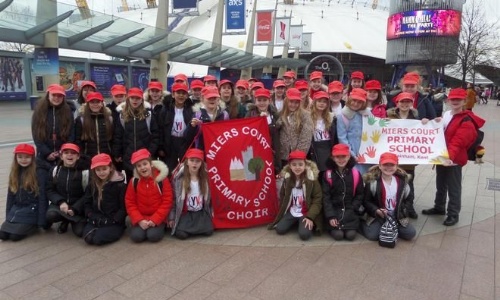 On Tuesday 4th February, 37 members of our school choir went to the O2 Arena in London where they joined almost 9,000 other children to form the Young Voices choir. We sang a variety of different songs that we had been learning. Some of our favourites were: Larger Than Life, Frightfest, Pop Medley and The Queen Medley.
Young Voices is an organisation that inspires children showing them that they can accomplish their dreams.
We were lucky enough to be treated to one of the luxury VIP boxes, where we had sofas as well as our actual seats!
There were a few guest appearances that included Ruti (the winner of The Voice 2018), The Shires (who perform country music) and Tony Hadley from Spandau Ballet. Ruti first sang at Young Voices with her school choir in 2007. These performers were accompanied by a full backing band and the street dance specialists, Urban Strides.
We had so much fun. It was such a great experience.
- Isabelle and Holly