Welcome to Year 2!
In Year 2, we have two classes: Nightingale Class and Robin class.
Please click on the links below to see what we have been up to lately in Nightingale and Robin Class.
Social Story
Each year, we create a Social Story for our individual year groups. The aim of the Social Story is to help children become accustomed to their change in environment as they progress upwards through the school. It outlines how their classroom will look, who their teachers are, and how the school day may look. Our Year 2 social story can be found here:
Curriculum

Gallery

Student Work
Keeping Healthy, Keeping Active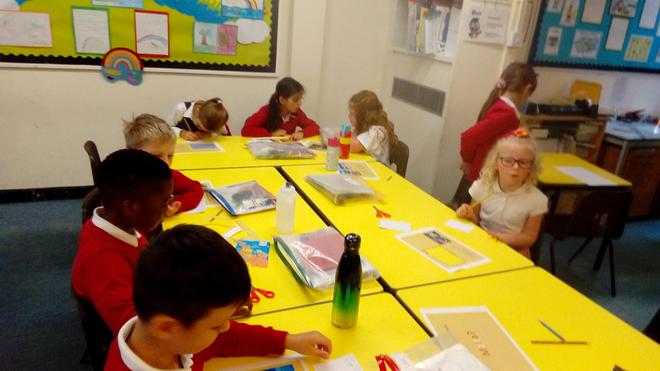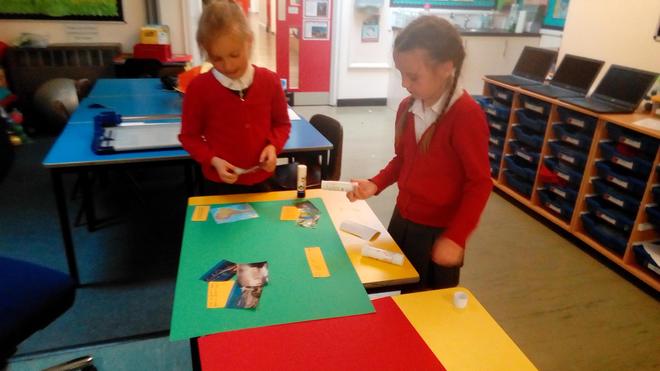 Robins and Nightingales thoroughly enjoyed their learning during our Keeping Healthy, Keeping Active event. We started off the event by finding out about the Olympic Games and some of the countries that take part. We linked our House colours to some of these countries; Spain, Malta, Brazil and Iceland and found out some facts about them. We made flags, banners and Olympic torches for our very own opening ceremony parade. We found out about all the different food types that make up a balanced diet and ways that we can keep fit and healthy. We enjoyed trying some healthy Spanish foods; Spanish rice and tortillas. Some of us had never tasted Spanish food before and thought it was delicious! Flynn said "It was yummy and I haven't tried it before. It was very healthy because it had peppers in it." Sienna said "When I first tasted Spanish rice it was really good. I asked for the recipe so I can make it at home. It was healthy because it had red, yellow and green peppers."
We ended the week with our Sports Day, the children enjoyed working as a team member and using the skills that they have been learning throughout the year. The children were great at encouraging each other and all did their best in each activity.
Maya said "Sports Day was really good because we jumped over hurdles that we learnt with Tom. We worked as a team. I'm in Yellow House and we came joint second." Ivy said "Sports Day was amazing. I really liked the javelin event because we learnt how to throw a javelin in our lessons with Tom. I enjoyed the obstacle race and I liked working with my team to try to win."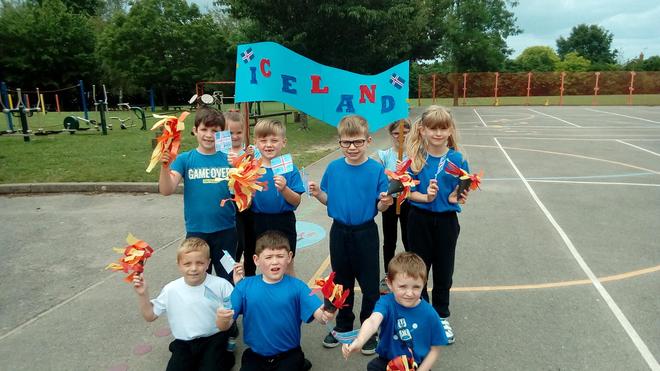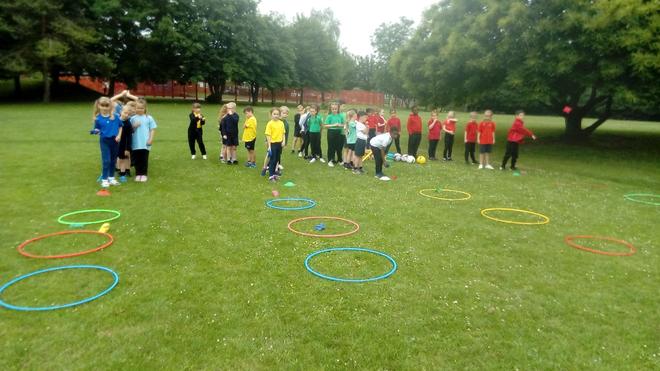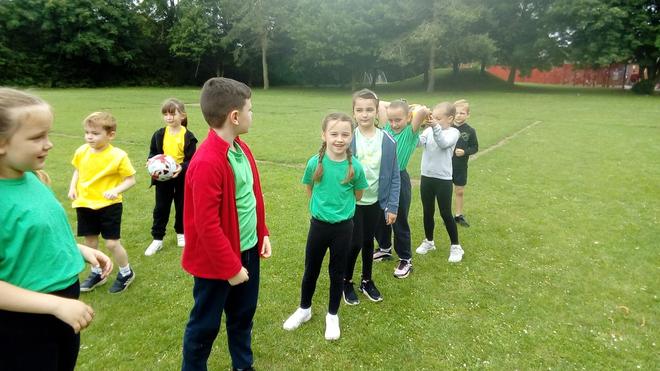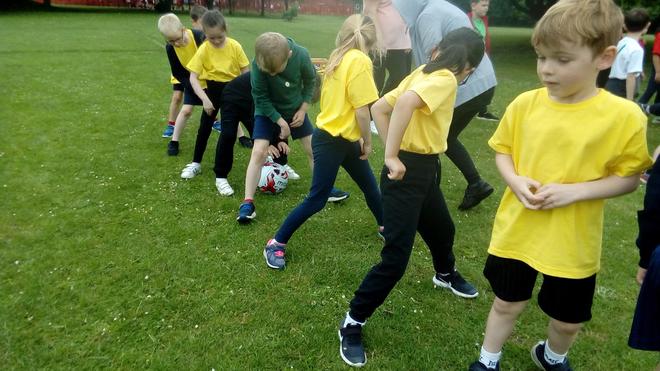 Year 2 - World Earth Day
Robins and Nightingales had a fantastic week last week, learning about how the world is being damaged by mankind. Year 2 read a very thought provoking text called "Mother Earth is Weeping" by Claire Donald. They found out that it is up to young people to be more environmentally friendly and kinder to each other. The children impressed us with their ideas about how we can make simple changes to help prevent climate change. Leila said "We should walk instead of using the car." Jack said "Every time we cut down a tree we should plant one hundred more." Year 2 made their own books on how to make Mother Earth smile again alongside promises of changes they will try to make personally. Nikita said "Turn off the TV when you are not using it." Joel wrote "Remember to turn off the taps."
One of the themes of the book, linked to climate change is pollution. The children looked at "The Cleaner Air Project" which is being run by Year 5, and were amazed by how much our air around the school is polluted by traffic. So, we decided to collect data for the number of vehicles that pass our playground in five minutes. The children were surprised by the number of vehicles that they counted, and the amount of vans and lorries that passed our school. This data was then used to make bar graphs and this led onto a big discussion on how to reduce air pollution. The children made some wonderful posters that encourage a cleaner environment.
The children all agreed how important it is to look after our world!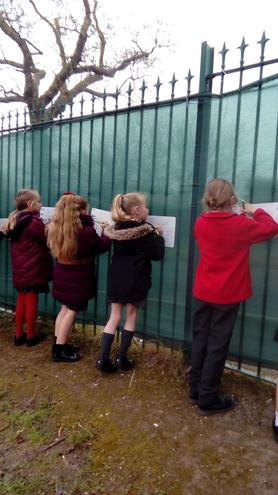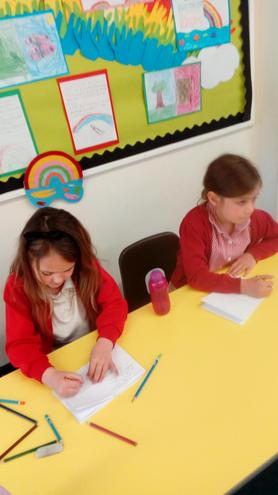 We have been working very hard both at school and at home this term and have had to adapt to new ways of learning; including linking up with our teachers and class through Teams lessons. We are very proud of what the children have achieved.
We have been busy being Street Detectives! We have been finding out about what it is like in our local area starting with our own homes. We looked at how homes are designed and the features that a designer might want to include. We then set about designing and making model homes. We even included doors with hinges!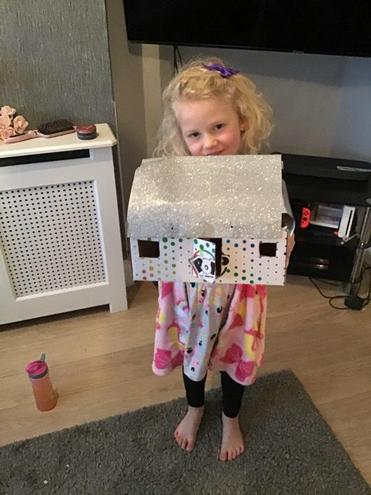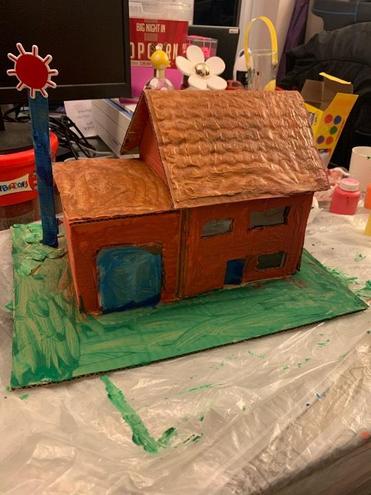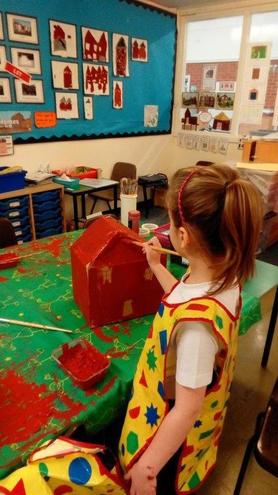 In Geography we have been looking at maps, we found out that when a map is drawn it does not show all of the features in lots of detail. We looked at the symbols that are used for some of the different features on a map and found out how to use a key. We then thought about local journey that we make and drew our very own sketch map to show this. We included road names and made our very own key for the features we would walk past on our journey.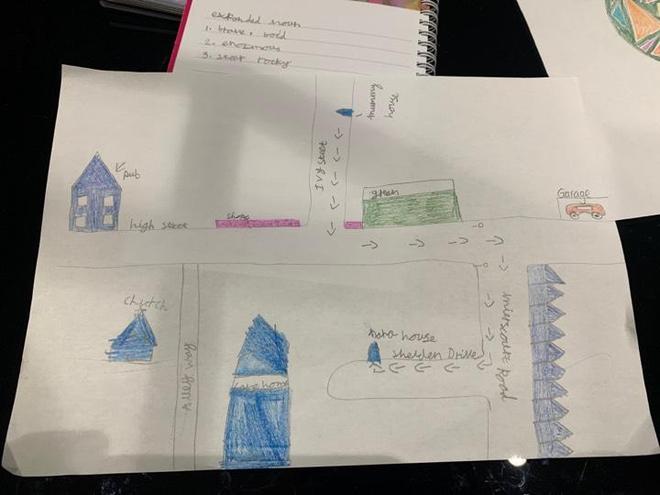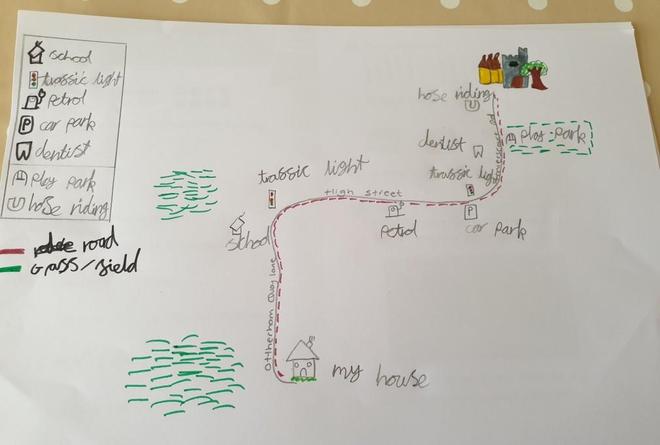 Not only did we think about our local area for humans, we found out about the different habitats for our wildlife too. We even braved the cold weather and went outside to find minibeasts in the microhabitats of our school grounds and back gardens. We found plenty of slugs! To help the minibeasts find shelter we also created our own microhabitats - 'Bug Hotels'. We hope the minibeasts like them.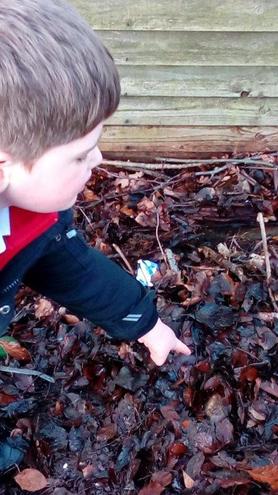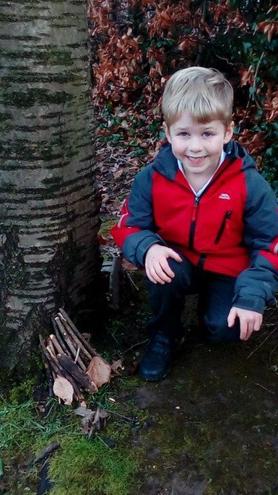 This term we have been learning about traditional tales. One of our favourites was Jack and the Beanstalk. As it was a tale that we were all very familiar with we thought we would read some alternative versions. we compared the characters and events. The alternative stories that we particularly enjoyed were Jim and the Beanstalk and Trust me, Jack's Beanstalk Stinks!
Home Learning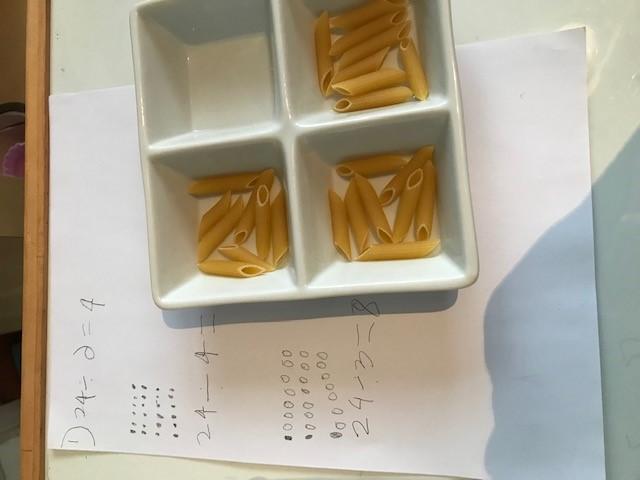 We have had to spend some time at home too this term, just like lots of other children. This didn't stop us learning! We use a great website called Edmodo where we can continue learning using the work set by our teachers as well as sharing what we have done with our class. We continued our giant theme in in our English and wrote instructions to catch a fire giant. We had great fun mapping our instructions, acting them out and then writing them.
We really enjoyed multiplication and division in Maths and had great fun using what we could find at home to help us do the working out.
Christmas Production
Year 2 thoroughly enjoyed performing for our Christmas DVD. They did extremely well learning six songs in a very short space of time and should feel very proud of themselves. The speakers were clear, confident and were not put off when being filmed. We look forward to seeing their amazing talent in our Christmas DVD. Well done Year 2!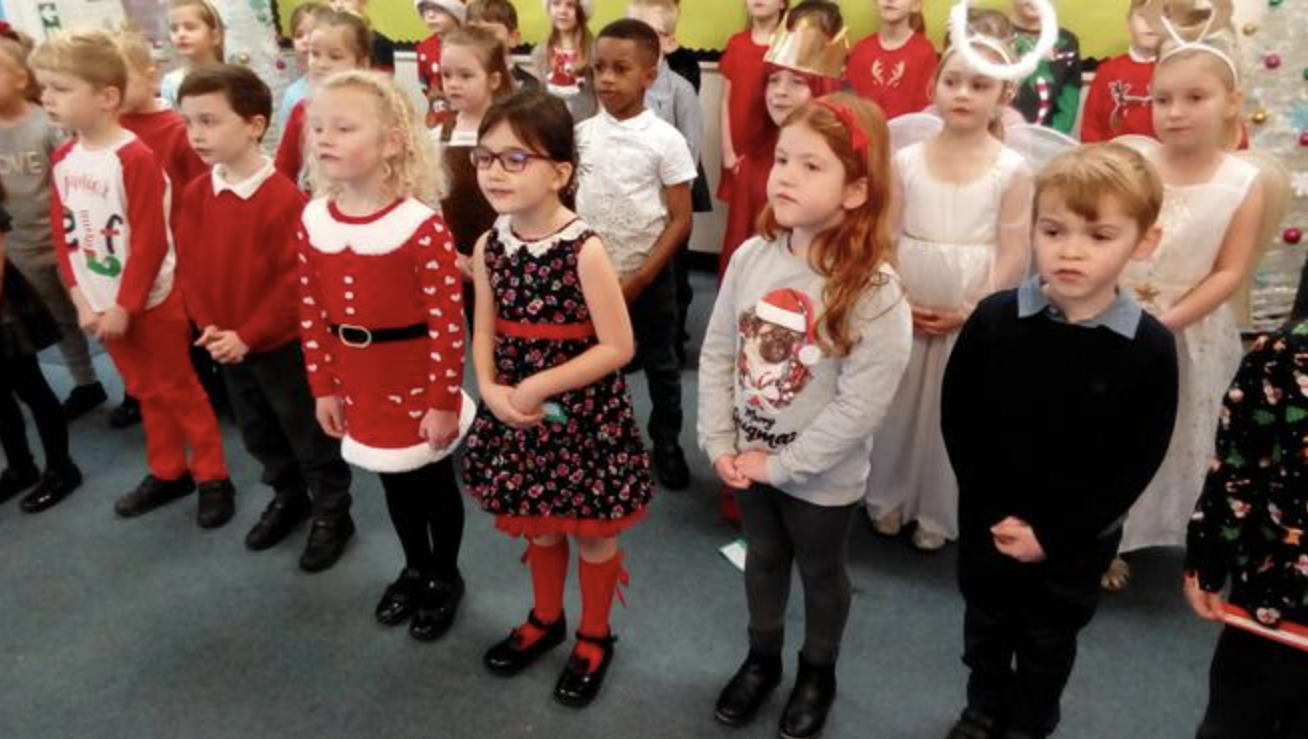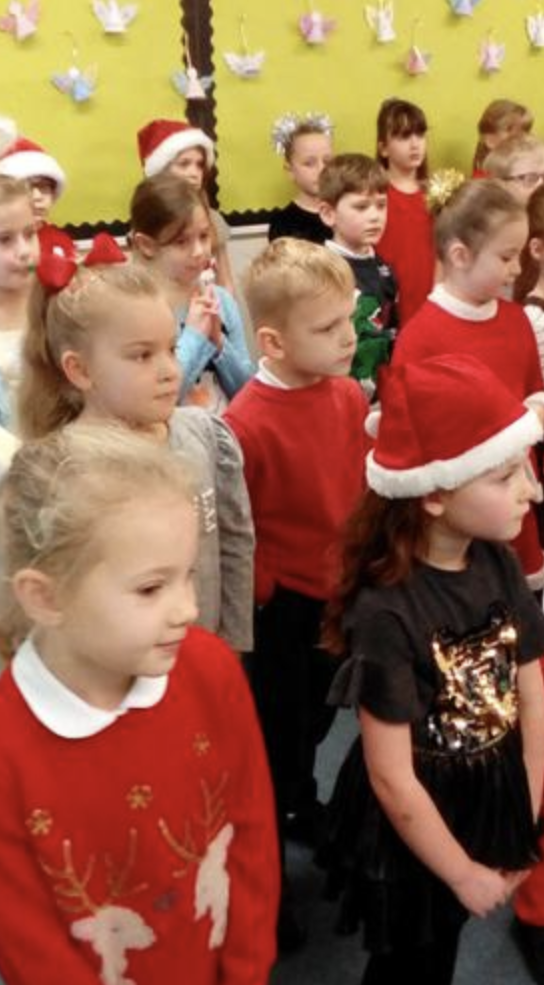 Useful Links
Below, you can find a number of useful links to help support your child's learning:
Year 2 News